Company description
Milestone Systems A/S is a Danish company developing and marketing video software tools. The Company offers open platform video management software for surveillance, safety, and security applications. Our video management system (VMS) called XProtect comes with a 'Smart Client' product that allows users to view live video, search for and review recorded video and to view alarms, maps and video analytics results. The company was founded in the year 1998 and has been a stand-alone company in Canon Group since 2014 growing with 750+ global employees and 10,000+ partners worldwide.
Having offices in more than 25 countries, our purpose is to "Make the World See". Our open and independent IP video surveillance platform helps to protect people& assets and enables our customers to optimize their business processes. Our objective is to improve our community customers' organizational processes and safety level through the management, integration and distribution of digital video data. Based on a true open platform, XProtect® VMS enables integration with the industry's widest choice in cameras and best-in-class business solutions, such as access control and video analytics. Milestone XProtect® VMS supports 8,000 cameras and hardware devices and is powerful, reliable, easy to use and proven in more than 150,000 installations worldwide.
Project description
Our video management systems (VMSs) called XProtect allows to view and monitor each floor of the building, understand where IP video cameras are placed and what field of view is covered. The example of software's interface is below: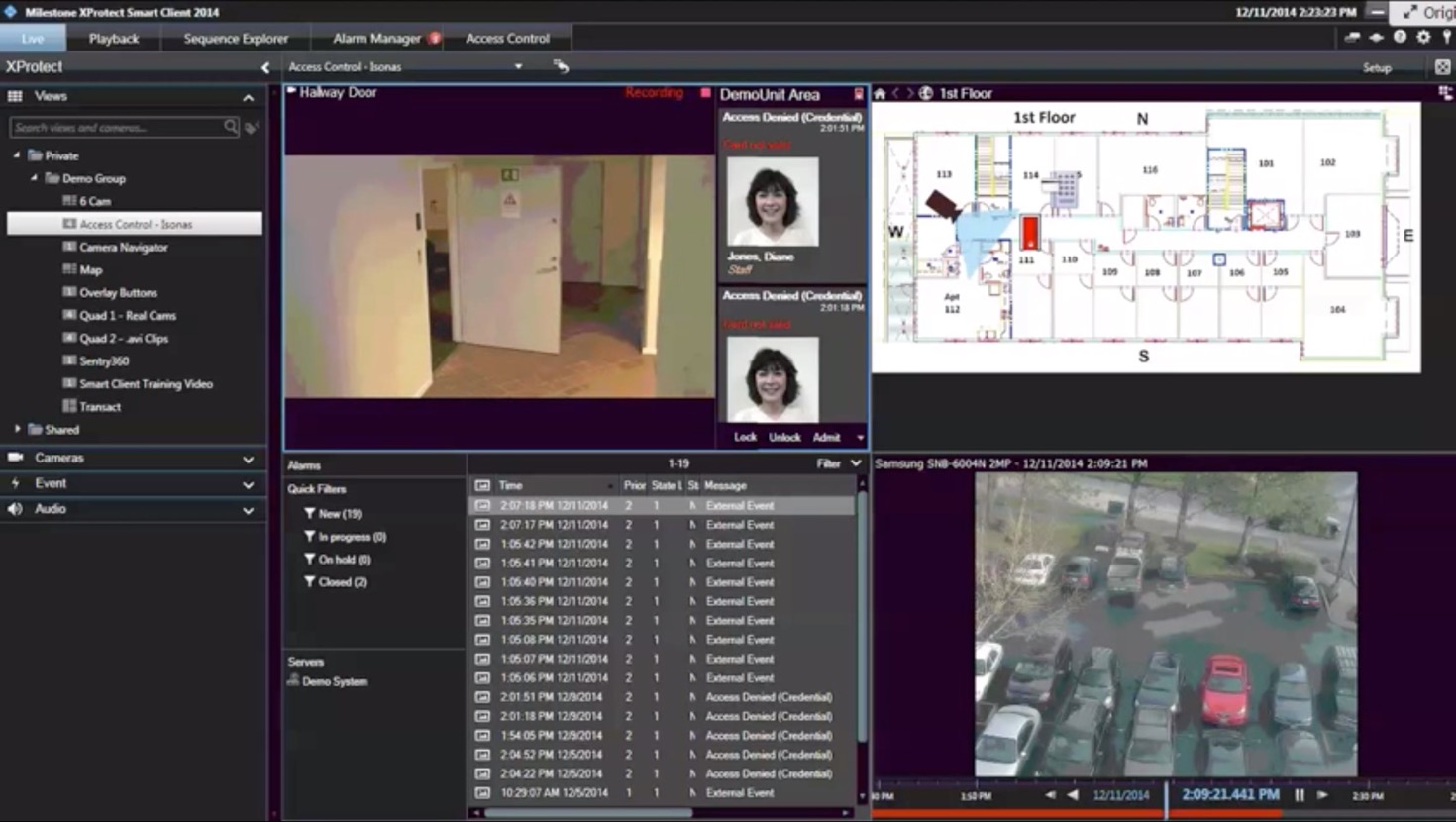 Currently, the floor plans are simply uploaded and treated as bitmaps (Images) – no interpretation is made of the floor plan, it merely serves as a visual aid to the user. The aim of this project would be to develop means, applying computer vision and machine learning techniques, to
derive a graph-based logical model of building layout
from bitmap representations (images) of floor plans. In other words, we would like to process a floor map image into a node-labeled graph, where edges represent not rooms, but transition points of humans. This way we can fill graphs with contextual data and have much better understanding of the building.

This type of logical model, i.e. a graph that can be extended to include other assets and events, stems from knowledge representation, branded 'Knowledge Graphs' by Google, who apply this to search and contextualisation. Floor plans represented in graphs could apply the same logic and enhance contextual understanding of the building.
What is useful in constructing a logical model is that it includes doors which are explicitly modeled and placed in the paths between rooms. Also, it can model the exterior or 'perimeter'. The graph can also include devices and other important information.
A realistic floor plan will span multiple floors, will be significantly more complex, will use variants of standard 'glyphs' (for instance the representation of door), and will evolve over time (see 'Rebuilding' below):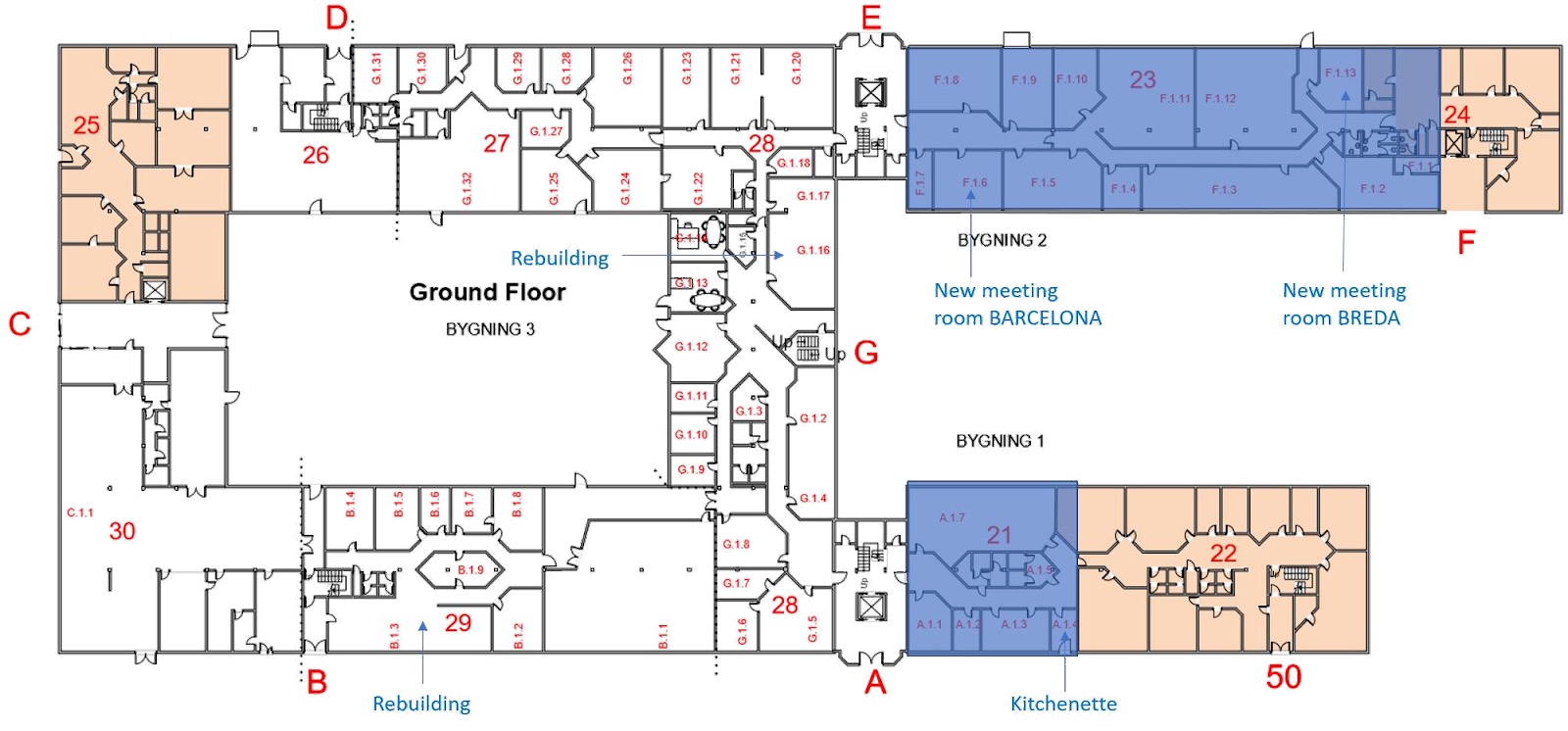 Data:
For this project, we expect to use publicly available floor plans for training and our own data for testing. We would also expect a candidate contributing to researching for the right data set as well.
Expected outcome:
Our expected outcome to the project is machine learning and computer vision based algorithm capable to process floor plans (Images) and derive logical models
Student description
We are looking for motivated Computer Science, Mathematicians, BI or other similar background technical master thesis student(s). Prior experience working with computer vision algorithms, AI training and development would be considered as a big advantage. We expect you to be motivated, self-driven and have a can-do attitude.
To support you with this project, we will provide available data at our disposal for training purposes as well as help to collect additional data required. You will also have access to our R&D team for questions and assistance if needed.
Each application is being reviewed on an on-going basis and the case will be closed once the right match is found, regardless of the application deadline. Therefore we encourage interested students to apply as soon as possible via the online form below or contact Kris at kz@matchmythesis.dk if you have any