Company description
HYCON is a Danish-owned company with office and assembly facilities in Støvring near Aalborg. We design, construct, manufacture, assemble and distribute hydraulic tools and power packs for professional users in 62 different countries.
The company has 20 employees, with ambitions to increase its turnover by 50% within and five years. This includes product development as one of the three legs of the strategic house, in other words, product development should be able to contribute significantly to increased revenue after 5 years.
Today we have a large sale in the Midwest in the US, Norway and the UK, of tools for concrete core drilling and sawing. In Europe and large cities in the US high-frequency electric tools, that are easier to handle and transport than current hydraulic solutions, are more popular. Though, high-frequency systems are expensive and not as robust as the hydraulic systems.
Project description
HYCON has a vision of redesigning our hydraulic system and launching a new hydraulic product line, called HiLine. Even a few years ago all the major competitors, such as HILTI and Husqvarna, were using the same hydraulic technology for their concrete core drilling and sawing products. However, recently most of them substituted their hydraulic technology for high-frequency electrical technology. As a result, their products became much lighter and smaller compared to ours. However, hydraulic technology inherently has some advantages that can not be replicated by electrical technology, namely :
Always lubricated a vital part;
Closed system, therefore, not sensitive to dust and sludge at saw blade or drill;
Good power transmission and no need for electric torque protection, which can be handled with a pressure relief valve.
Therefore, we do not go with the bandwagon, but rather want to resurrect the hydraulic technology. We want to re-consider hydraulic system from scratch and see where/how we could make it lighter and smaller like electrical technology solutions without losing benefits of the hydraulic system. We are open to your different approaches - either taking a single component like e.g. a pump, and figuring out how to make it as effective as possible or making the whole hydraulic system analysis, feasibility calculations and identifying areas for possible improvements.
Below, is a technical comparison between the hydraulic (our) and electrical solution (competitors):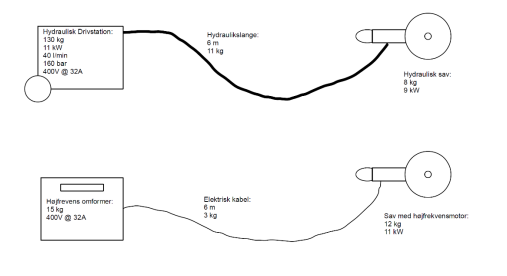 Few ideas for research:
To achieve this, an idea could be a hydraulic high-pressure system (e.g. 500-1000 bar) where the oil flow is reduced. This gives the same power as the current HYCON system, but the size of the drives and hoses can be significantly reduced. In addition, an electric high-frequency motor could be used at the drive where the motor is not exposed in the same way as when the motors are used close to the saw blade on the electrical systems.
The project provides an opportunity to look at a good range of disciplines in Mechatronic system design and analysis. Possible tasks in the project may be:
- Modeling the existing HYCON solution
- Validation of model with load data from experiments with sawing in concrete wall
- System Analysis - Which components are most important for weight and size
- Design of new hydraulic system
- Optimization by weight and size
- Feedback control of pressure in system to control feed on the saw
- Possibility of mechanical analysis to ensure that the hydraulic components can handle the
high pressure.
- Design of an electric high frequency drive line (frequency drive, motor, gearbox and hydraulic
pump)
- Drive station construction
Student description
We expect thesis student(s) having a background in mechanical engineering, mechatronics, physics or similar topics. Ideally, the candidate should be studying mechanical engineering, fluid dynamics and has some previous experience in designing a new mechanical system.
To support you through this project, Hycon will provide support in case of any challenges while designing a new product. Our Head of R&D will be a contact person during the process of the project and will answer all your questions. Our office is in Støvring, so candidates are more than welcome to stay in our HQ. However, there is a possibility to do this project remotely as well so all applications will be considered equally regardless of your location. We are also open to international students.
Applications will be reviewed on an ongoing basis and we will close once the right candidate or a group is found. For any questions related to the project, you are welcome to contact Kris at zibutis@matchmythesis.com