Company description
B&R is an innovative automation company with headquarters in Austria and with a presence in 75 countries worldwide. On July 6, 2017, B&R became a business unit of the ABB Group. As a global leader in industrial automation, B&R combines state-of-the-art technology with advanced engineering to provide customers in virtually every industry with complete solutions for machine and factory automation, motion control, HMI and integrated safety technology. With Industrial IoT communication standards like OPC UA, POWERLINK and openSAFETY as well as the powerful Automation Studio software development environment, B&R is constantly redefining the future of automation engineering.

The innovative spirit that keeps B&R at the forefront of industrial automation is driven by a commitment to simplifying processes and exceeding customer expectations.
Project description
Building software for machines requires knowledge in both software engineering and the domain the software is written for. At the moment the process of working with clients who want to automate their industrial machinery could be described as whiteboard sketch based interview.

For the first step, machines are on a whiteboard divided up into mechatronic objects.





As the machine modules are identified, the functionality of each module is listed into sequences that can be programmed. We then use "PackML State model" to outline different states and corresponding functionalities for each module.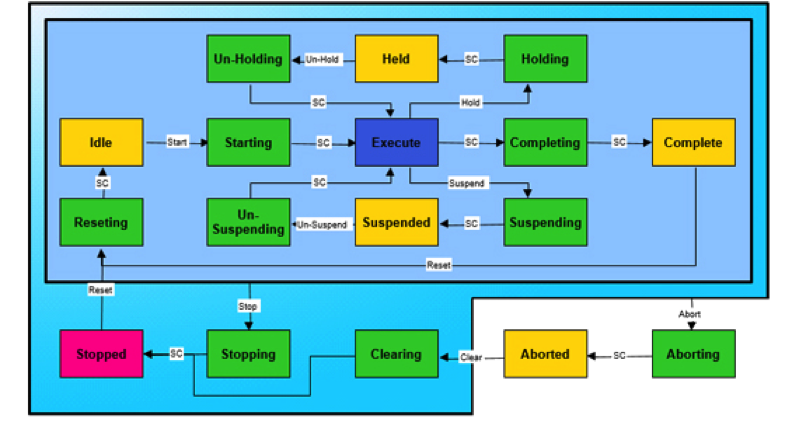 The creators of the machinery are typically mechanical engineers with little or no knowledge about programming but with good knowledge about the machine process.

Communication between the mechanical and application engineers can often be a problem since the mechanical engineers thinks in processes and functionality and application engineers think in generic modules and programming sequences.

As a result, miscommunication occurs. Knowledge that is gained about client machines while sketching on the white board is only captured as screen shots of the board or as handwritten notes and thus needs to be unnecessarily repeated each time from zero which is a waste of resources. When the machine is developed a good visual overview of the software architecture inside a machine is missing.

As experts in automation, we believe there is a better way of doing things. We imagine that with a help of right tools, much of the process of creating good software architecture and programming a machine can be automated. The vision for the future is that we after each meeting have captures of the latest machine processes and can generate an updated version of the underlying software architecture.

We envision a visual tool, model or a game where clients in a user friendly manner can describe their machines and processes while B&R representative could understand what it is required from their side. We see this tool as a visual language for describing machines and processes in a simple and systematic way that makes sense for the domain the customer works in.

We are open to any forms of visual communication (paper canvas framework, drag&drop website tool, game, etc.) as long as it makes communication between domain expert engineers and B&R application engineers effective in capturing machine and process information.

On our side, we will:

• Provide access to client meetings to observe how they are being run
• Interviews with managers to understand biggest challenges
• Support with an environment for experimentation and testing different approaches


Side note: On a conceptual level, inspiration as a good example could be taken from Node-RED is a programming tool for wiring together hardware devices, APIs and online services in new and interesting ways. It provides a browser-based editor that makes it easy to wire together flows using the wide range of nodes in the palette that can be deployed to its runtime in a single-click.
Student description
For this thesis we are searching for student(s) with a background in Software engineering, Techno-anthropology, Game design, Games technology, Web Communication Design or alike. In general if you can understand highly technical software / engineering terms and have a knack for communication/ gamification, you might be a good fit for this project.

During thesis writing time you will get a place in the office to come and work from.

Selection takes place on an on-going basis and if the right match is found will be closed before the deadline.